Our Vision is to be a provider of full range services to our clients, a partner of the nation towards progress and of our people's professional growth and personal fulfilment
To the Client: A commitment to provide personalized audit and assurance, tax and a full range of advisory services that exceed their expectations
To the People: To be a partner in sustaining economic growth by promoting public accountability, good governance and integrity in the service to the accountancy profession, God and country
To our Associates: To bring out their best potentials through a rewarding career with the Firm
Founded in 1959, DMD flourished at its infancy with the astute resourcefulness, prolific experiences and global connections of its Founder and Chairman Emeritus Luis C. Diaz. In 1960, Diaz made travel a life-long learning experience and visited over 30 US states and US cities in his eight-month stint as an Eisenhower fellow. This was an invaluable catalyst in the Firm's growth. To manage its increased clientele and services, L.C. Diaz and Associates engaged new partners and changed its name to L.C. Diaz Company CPAs (LCD and Co.) in 1970.
In spite of the political turmoil in 1970 and the economic recession in 1980, LCD and Co. managed to grow through creative entrepreneurial acumen, as it established branches to capitalize on the thriving commercial and manufacturing enterprises in the cities of Cebu and Davao. With this countrywide-expansion, LCD and Co. forged a partnership with a multinational global auditing firm. The fruitful alliance became a fertile environment for the best of the best – providing challenging career growth and strategic business development strategies.
In the early 1990's, LCD and Co. expanded by elevating internally developed partners/associates and changed the Firm's name to Diaz Murillo Dalupan and Company (DMD) – a Firm then acknowledged as a leading industry player, so that when the Asian meltdown occurred in the late 1990's, it had the strength to move forward in professional services and clientele.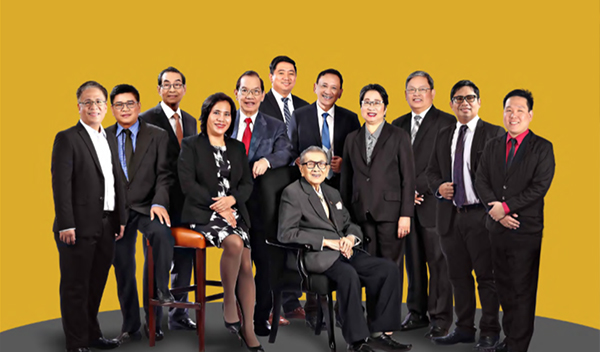 Through the years, DMD has earned the respect of the local and international business communities as it persevered to become an institution of dedicated service, competence and integrity. DMD renews its unwavering commitment to excellence and uplifts its spirit of moral standards, charity and leadership in the profession. With over three hundred partners, principals and associates, DMD takes pride in being an independent 100% -Filipino Firm and a cost-effective provider of basic to complex Industry-specific services which include Audit and Assurance, Tax and Corporate Services, Advisory, Business Process Outsource and CPD Accredited Training. It renewed relations with other external professional groups and established itself as a formidable service provider for the locally-based clients and Philippine subsidiaries of international industries and financial enterprises.